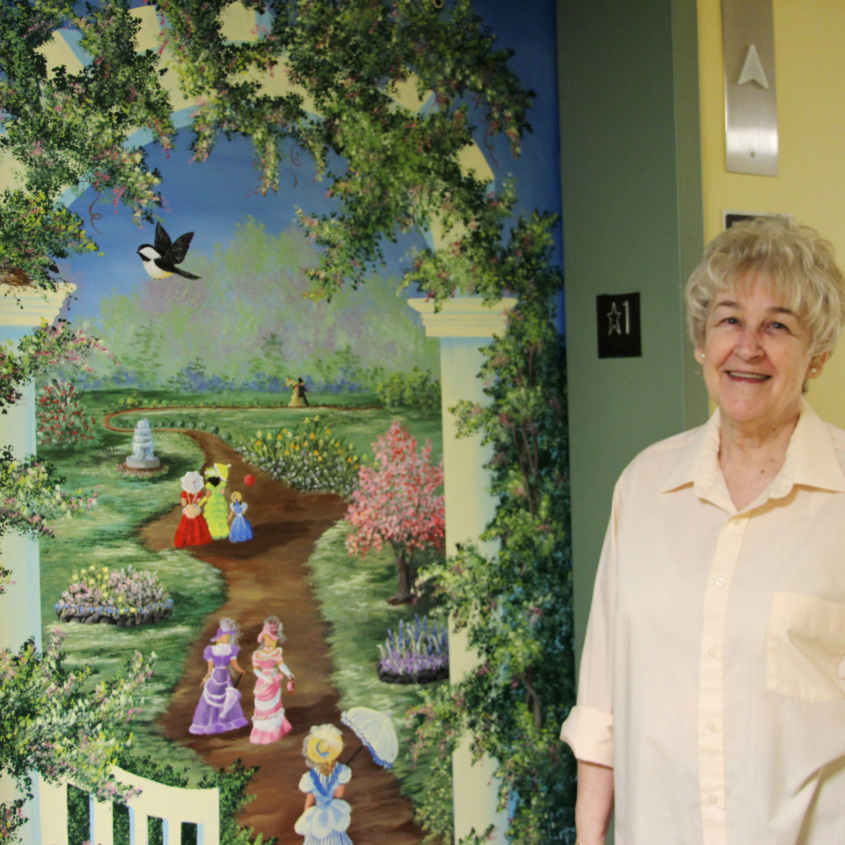 Sharon Cleaves has made her mark on Unity Gardens. The hallways of the Windham building are lined with her work, mostly pastoral scenes and coastal settings: lighthouses on grassy or rocky coasts; chickadees on moonlit birch trees; and rustic farmhouses, like the one she used to own on the Presumpscot River in Falmouth. She even paints the occasional cowboy.
Upwards of 100 of Sharon's paintings hang in Unity Gardens, as well as several other Avesta properties in the Windham area. She made sure her favorites were hung on the second-floor hallway outside her apartment, with little cards tucked into the frame that read "not for sale."
"I love to keep busy," she says. "I've been painting all my life, almost 70 years."
Sharon's work now adorns one more spot in Unity Gardens: the elevator door. She recently completed an intricate garden scene that greets residents and visitors alike when they arrive at the elevator.
The painting features a blossom-covered trellis opening to a flower-filled garden, where ladies in pastel-hued dresses and hats — and one dapper fellow in the background — stroll. The detail on the painting is remarkable, from the tiny pink and white blossoms to the bows and lace on the ladies' dresses and parasols.
The idea to turn the elevator door into a work of art was a "joint effort," says Sharon. Senior Maintenance Technician Larry Sawyer first suggested it. "He said, 'The elevator door needs to be repainted – do you know where I'm going from here?'" Sharon recalls. Kim Munro, the Resident Services Coordinator, came up with the subject matter. Sharon was more than willing to lend her talent to the project. "I don't mind at all, I love doing it."
She sketched the scene on a piece of paper before getting to work on the door. It took her five days to finish the painting, working from morning to mid-afternoon. The piece was so large she had to work on it in the building's electrical room, where neighbors would stop by to see her progress as they took out their trash. When the painting was finished, Larry sealed it to keep it safe from scratches and scuffmarks.
The door has been a hit with residents. 'Everyone has been very kind and complimentary," says Sharon. "It gives them something to talk about and enjoy."
Since finishing the elevator door, Sharon — who was the first person to move into Unity Gardens when it opened in 2006 — has already finished another piece for the property, an idyllic scene of horses running through the waves. The painting will hang in the community room.
"Painting is a gift. What good is it if you can't spread it around and share it with people?"
By Mindy Woerter, Communications Manager
https://www.avestahousing.org/wp-content/uploads/2013/04/Artist-Sharon-Cleaves-Unity-Gardens-Windham-2.jpg
1500
2048
Mindy Woerter
/wp-content/uploads/2017/01/logo.png
Mindy Woerter
2013-04-12 13:03:35
2017-05-05 10:43:54
Unity Gardens community a canvas for resident artist