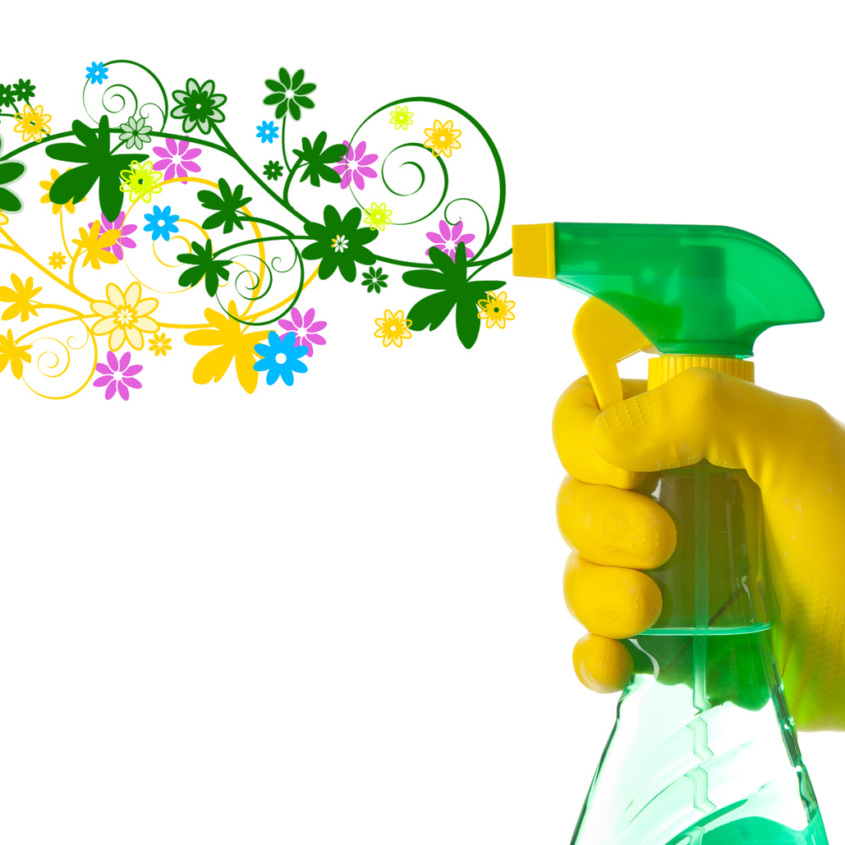 Spring seems to finally be upon us. This warmer weather may have you dreaming of relaxing outside with a glass of lemonade, but if you're a homeowner, spring means it's time for some home maintenance work. Maintenance performed regularly can help maximize the lifespan of your home and its systems and prevent expensive problems and repairs.
Here's a checklist of tasks you should tackle to keep your home safe and efficient.
Outside
   Inspect your gutters. The April showers probably alerted you to any leaks or blockages. Make sure gutters are clear of leaves and debris, and that downspouts are also clear and drain away from your foundation.
   Check your roof. From the ground, inspect your roof for any missing, loose or curling shingles, or nails that have popped up. If you spot any problems, contact a professional roofer.
   Repair cracks in concrete or asphalt. Winter can be harsh on driveways and walkways, so repair any cracks you find before they get worse and become a hazard. Spring is also a good time to seal your driveway to help extend its life.
   If you have a deck, give it a once-over. Decks can also be damaged due to heavy snows like those we had this winter. Check for split or decaying wood, and make sure railings and banisters are secure. If you can take a screwdriver and easily penetrate a board 1/4-1/2 of an inch, break off a sliver without splinters, or if the wood feels soft and spongy, it may be decaying and need replacing. Read more tips for deck maintenance here.
   Check doors, windows and trim for finish failure, broken glass and damaged screens. Be sure to check the caulking at doors, windows and all other openings as well as joints between different materials (e.g., wood and masonry).
   Check your lawn mower. Make sure your lawn mower starts, change the oil and see if the blades need to be sharpened. You may also want to do a tune-up or hire a professional to do it.
Inside
   Check your doors and windows. Check around doors and windows to make sure there are no water leaks or damage. Fill gaps between doors/windows and trim with caulk, install weather stripping or make sure the existing weather stripping has a tight seal. This will help keep the cool air in over the summer if you decide to run an air conditioner.
   Inspect your attic and basement. In the attic, make sure there are no signs of pests or animals living there, and look around for signs of roof leaks or water damage. Check your basement for water leaks and ensure your sump pump, if you have one, is working.
   If you didn't change the batteries in your smoke detectors and carbon monoxide detectors on Daylight Savings Time, then do so now.
   Do some spring cleaning. Spring isn't just a great time to wash your windows. You should also make a habit of checking your washing machine fill hose to make sure it's not cracked, cleaning your dryer vent of lint, and clean your refrigerator coils to help it run more efficiently.
Your home is a big investment, and regular maintenance protects that investment and helps prevent damage down the road that could cost you money. And once these tasks are done, the lemonade will taste that much sweeter.
By David Stolt, Home Ownership Services Manager
https://www.avestahousing.org/wp-content/uploads/2013/05/spring-cleaning.jpg
1029
1847
David Stolt
/wp-content/uploads/2017/01/logo.png
David Stolt
2013-05-02 14:28:05
2017-05-05 10:18:19
Spring home maintenance tasks to protect your investment