This is part two of a three-part series on community gardens at Avesta properties.
The residents at Stonecrest in Standish have had a community garden for several years, thanks to a partnership with Rippling Waters Organic Farm. In 2007, Standish-based Rippling Waters received a grant from Gorham Savings Bank to build the gardens at the senior community of 12 apartments.
Earlier this year, phase 2 of Stonecrest opened, adding another 25 apartments and breathing new life into the community gardening effort. New residents meant a need for expanded garden space. Avesta applied for and received a $400 grant from NeighborWorks America (of which Avesta is a chartered member) to help fund the addition of three new raised beds at the property to complement the existing six. The residents worked together to build the beds, and Rippling Waters supplied the plants.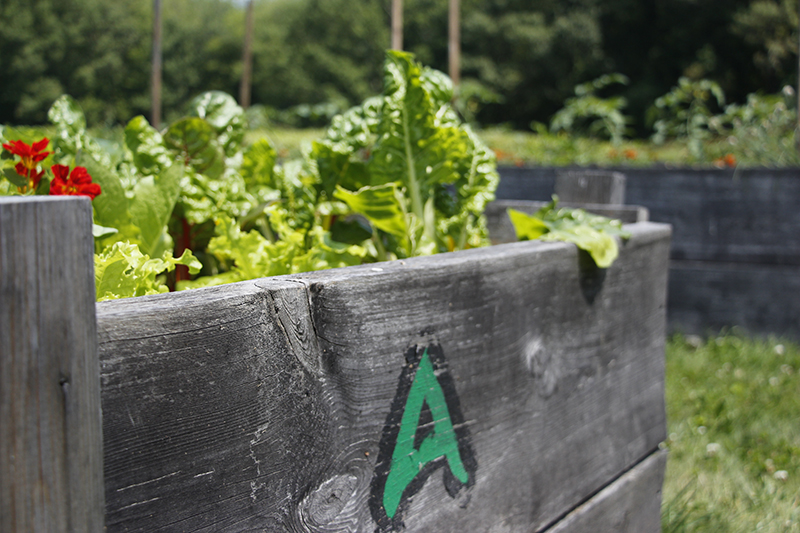 Liz from Rippling Waters visits Stonecrest every Monday morning to help residents tend to the garden. She can always count on a group of six residents to show up, while a handful of others help out when they're able. "The majority of people helping are new to gardening," Liz says. "It's going pretty well." The residents harvest the vegetables and put them in the community room to share with their neighbors; a chalkboard alerts residents to what's available.
Theresa has been working in the gardens since she moved into Stonecrest over two years ago, when there were just two people keeping the effort alive. She's happy to see more of her neighbors participate this year. "It's good for the whole community for everyone to have fresh veggies. And I'm willing to work for it."
The residents are growing beets, radishes, lettuce, herbs, tomatoes, carrots, leeks and other vegetables that anyone is free to pick and use, or collect from the kitchen. At a recent community cookout, residents and guests got to enjoy a salad that included veggies fresh from the garden.
"The stuff is good so far," she says. "I love anything out of the garden."
Read Part One of the community gardening series: Community gardening improves quality of life for seniors in Raymond
---
https://www.avestahousing.org/wp-content/uploads/2013/08/STCII-BBQ-and-Comunity-Garden-51.jpg
533
800
Mindy Woerter
/wp-content/uploads/2017/01/logo.png
Mindy Woerter
2013-08-16 19:10:54
2017-02-09 15:35:52
Partnerships revive garden at Stonecrest in Standish