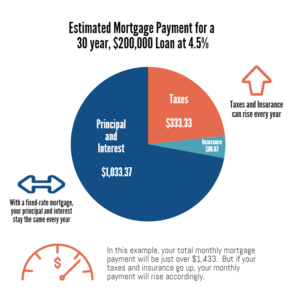 Explaining Increasing Escrow: With 2016 just around the corner, many families are looking at their budgets for next year and wondering how the mortgage payment will fit into their finances. Did your mortgage payment increase even though you have a fixed-rate mortgage? That's because of an increased escrow payment. With any mortgage, there are two reasons why your escrow could increase:
Regular Yearly Increase
Your monthly mortgage payment includes more than just the principal and interest on your loan.  It also includes money that goes into an escrow account that pays your property taxes and homeowners insurance.  It is completely normal for your mortgage payment to go up a little bit every year as property taxes increase.  Some of the increase that you're  seeing on your  2016 mortgage payments is simply your mortgage company anticipating that your taxes will rise, and trying to adjust your payment to make sure that your escrow account will have the funds to pay the taxes.
Increase Due to Escrow Shortage
The reason why our payments are going up more than we are used to is because the mortgage companies underestimated the amount that our property taxes would increase in 2015.  Because the mortgage companies underestimated, the escrow payments that we made during this past year were not enough to pay all of our 2015 property taxes.  This is called an "escrow shortage."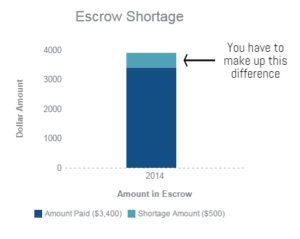 For the sake of explanation, let's say that you paid $3,000 a year in property taxes in 2014, and that you're mortgage company assumed that you'd pay $3,400 in 2015.  This would increase your mortgage payment by $33.33 a month in 2015.  But what if you mortgage company underestimated the amount that you had to pay?   Let's say that you actually had to pay $3,900 in 2015, so you actually should have been paying $75 a month more.  Now that 2015 is over, you've underpaid $41.67 per month for 12 months, leaving your escrow account $500 short.
Obviously, you still need to pay this money.  Your mortgage company with give you the option to pay it all as one lump sum, or to spread the amount over your 12 payments in 2016, causing your mortgage payments for 2016 to rise $41.67 in addition to whatever the regularly yearly rise will be.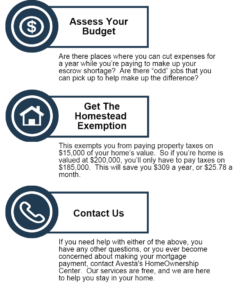 What Can You Do?
The combination of making up the shortage and adding in the estimated increase for 2016 could potentially add up to quite a bit of money for some homeowners.  It's important that you know that Avesta's HomeOwnership Center can help you figure out how to make ends meet with your increased housing costs.
We can help you come up with a plan to get through the next year of higher payments.  We also know about money saving  tips, like the Homestead Exemption and energy saving ideas that can help decrease your monthly costs.
https://www.avestahousing.org/wp-content/uploads/2015/12/mortgage.png
300
290
avestahousing
/wp-content/uploads/2017/01/logo.png
avestahousing
2015-12-20 21:59:24
2017-05-04 15:21:22
Why Escrows Can Increase in Fixed-Rate Mortgages