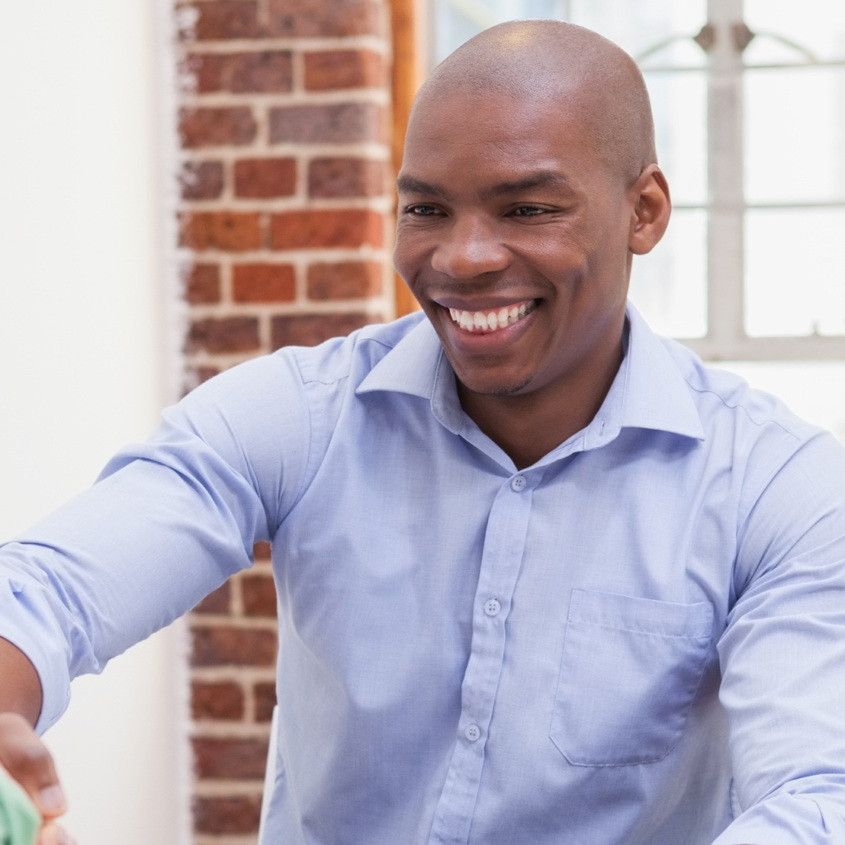 The job interview: potentially one of the most dreaded – but necessary – events of our adult lives. But beyond an hour in "the hot seat," interviews can – and should – be an interactive process. You are getting to know the company as much as they are getting to know you. The reality is that an interview is a chance to get in the door. Obviously, the employer saw something in your resume and cover letter that made them want to get to know you more. Now is your chance to get to know them too. Here are some basic tips to help you get through the interview and land the job:
  Do your homework. Understand the job you're applying for and what the company wants. Do some research on who they are: what are their core values? Do they have a mission statement? This will help you tailor your responses to the company and help convince them that you're the best candidate for the job.
  Dress for the job. Make every attempt to look as presentable as possible. This doesn't necessarily mean you need to show up wearing a suit and tie, but do dress for the job. For more service-oriented or production positions, for example, a suit may not be your best option. For professional or office positions, go dressier. Jeans are typically a little too casual for any interview – try khakis instead. Avoid short skirts and tank tops altogether.
  Be nice to the receptionist. Best case, this person is going to be your new coworker – don't start out on the wrong foot. Realistically, the chances are the interviewer is going to find out how your interaction with the receptionist went and this could impact your chances of getting the job.
  It's ok to be nervous. Most interviewees are, and recruiters understand that. In this case, honesty can be your best option: let the interviewers know that you're nervous. From a recruiter's standpoint, it can be better to have someone who is nervous than someone who is cocky. Try to relax and engage in the interview!
  Sell yourself. Your resume got you in the door, but now you need to convince them that you're the best person for the job. Be confident. You know you can do the job. Try giving examples when you answer questions: this will tell the interviewers more about you and your abilities than just a yes or no answer. For example, if they ask, "How do you deal with difficult customers," tell them about a particularly challenging situation that you handled well (don't get too caught up in the details – they just want to hear how you dealt with it successfully).
  Be prepared with questions. Most interviews end with, "Do you have any questions for us?" The recruiter wants to know if you have thought about the job and are engaged – this is your opportunity to show that you are. While you might think of additional questions during the interview, it's always best to come prepared with some just in case. Even generic questions like, "What do you like best about working here?" or "What would you say are the top three characteristics one needs to succeed in this job?" show that you are interested. That said, be wary of wording. Instead of asking, "What will I be doing?," try asking, "What does a typical day/week/month look like for this position?" Some recruiters don't mind if you ask about pay, but definitely don't make that your first (or worse, only) question.
  It's your interview too. This is your chance to get to know your boss before you start working there. Find out if s/he is someone you can actually work with, or if his/her supervisory style will drive you crazy (another potential question to ask, "How would your direct reports describe your supervisory style?"). You could find out that the position has extremely high turnover and they typically have to hire new people every month – are you going to be able to work in an environment like that? An interview where they don't even allow you to ask questions could be a red flag, for example: it could mean that they really don't care what you think. Take this opportunity to figure out if you actually want the job, or if you could actually see yourself working there. This is where those questions are essential!
Finally, keep in mind: the people interviewing you all sat in that same seat at one point. They're human too, and they probably dislike interviewing for new jobs just as much as you. In the end, the interview is just a conversation you are having to find out more about each other. Take this opportunity to put your best foot forward and land the job you deserve!
---

Alexandria Chase is the Human Resources Specialist for Avesta Housing, and has over 10 years of experience in recruiting and human resources. 
https://www.avestahousing.org/wp-content/uploads/2016/03/Handshake-compressed.jpg
1108
1500
avestahousing
/wp-content/uploads/2017/01/logo.png
avestahousing
2016-03-08 13:27:29
2017-02-09 00:28:04
Interviewing 101