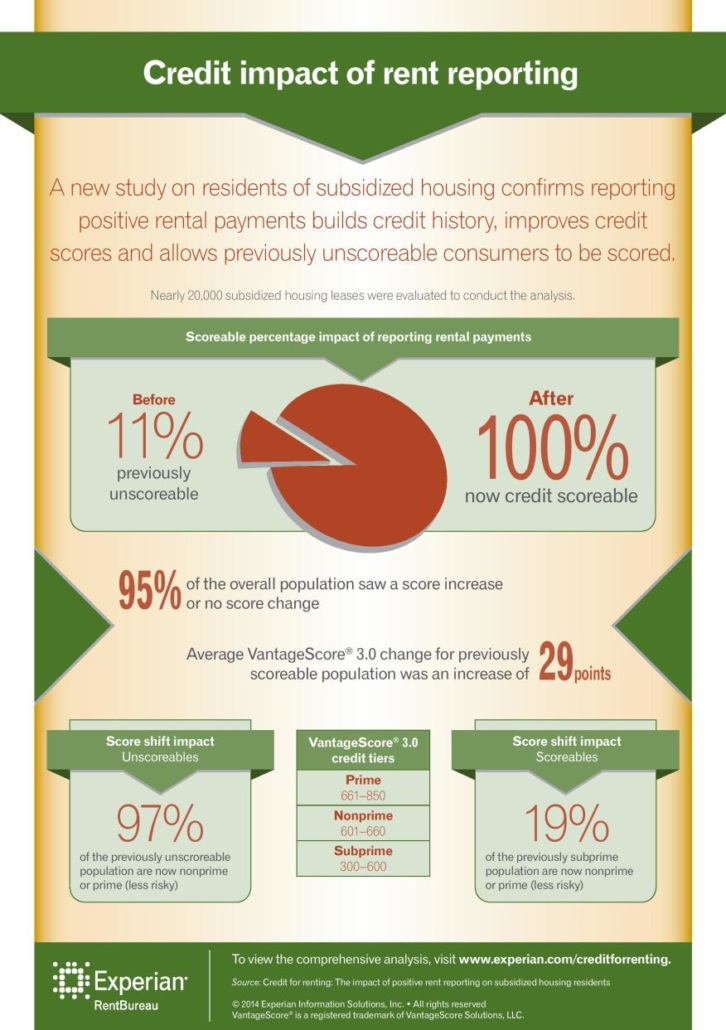 Having good credit saves people money. It gives them lower interest rates on loans and credit cards and helps make large purchases possible. Many times at Avesta we see people apply for apartments and have absolutely no credit on file. This may be someone who is new to this country or someone who has rented apartments their entire life and has had no reason to take out a loan. This thin credit file prevents them from renting from some landlords or even buying a home in the future.
Avesta Housing has recently teamed up with Experian Rent Bureau to begin reporting positive rent payments to Experian credit bureau. By reporting positive rent payments that people are already making, it helps build their credit by creating a tradeline and showing positive payments. This is a no brainer for us — if you make rent payments on time, why shouldn't you get credit for it?
In a study by Experian with a sample size of 20,000 subsidized renters, it was found that 95% saw their credit score increase or no change, and at least 53% of the study participants saw an increase of 11 points or more. Most people migrated to less risky credit profiles, leading to potentially lower credit card interest rates. After reporting positive rent payments 97% of these residents were now considered prime or non prime, and most of the "previously no-hit residents transitioned to prime risk segment category."
Avesta Housing is the first affordable housing provider to offer this service through Experian Rent Bureau in Maine. We're excited to provide this service to our residents. Helping build and improve credit for people living in affordable housing will lead to financial stability and new opportunities; it will also help residents save money for the future.

By Travis Heynen, Director of Housing & Services
Travis has worked in Avesta's Property Management division since 2011. In his current role, he focuses on resident needs and satisfaction, data collection/usage, and new tools and resources. Travis is a champion of low-income people and their quest to achieve financial stability through affordable housing and residents services. A data mastermind and a stickler for detail, Travis uses his keen analytic skills to design effective programs that improve the lives of Avesta residents.
https://www.avestahousing.org/wp-content/uploads/2018/12/news.jpg
1247
2048
Travis Heynen
/wp-content/uploads/2017/01/logo.png
Travis Heynen
2019-01-02 12:15:52
2021-03-11 10:08:46
Rent Reporting Promotes Financial Stability for Avesta Housing Residents