It's the first Friday of the month, which means the art gallery at Oak Street Lofts in Portland is open to the public tonight for First Friday Art Walk. This month, we're featuring the artwork made by children at several of our properties, including Pearl Place I and II in Portland and North Street in Westbrook.
We held several art-making events at the properties, where we asked children to create art on the theme of what community means to them. The children made collages, paintings and drawings depicting some familiar community landmarks, like Deering Oaks Park and Reiche Community School, as well as their families, friends and neighborhoods.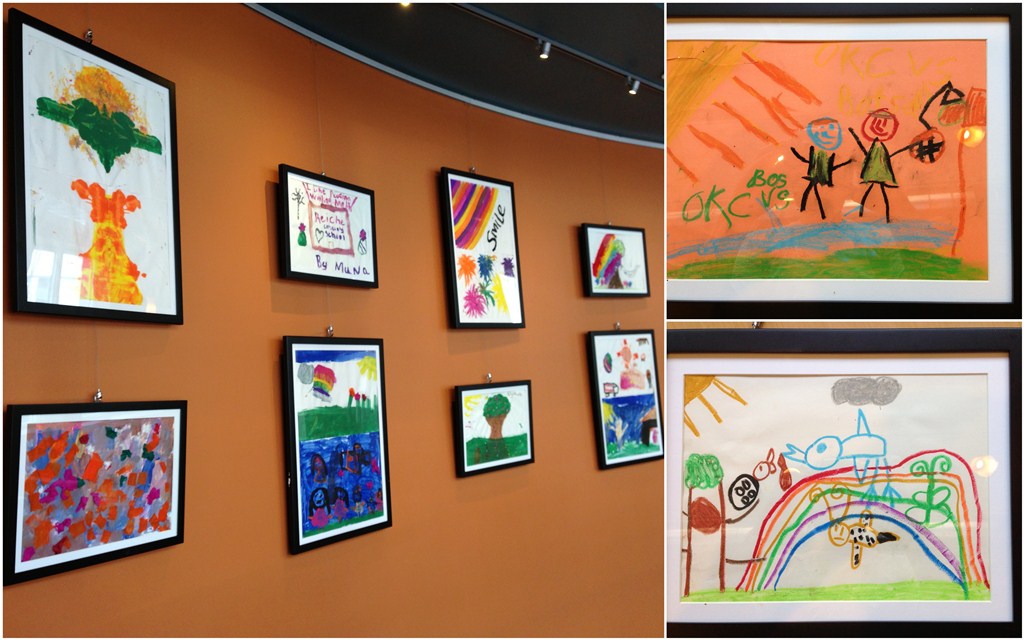 The children's work is juxtaposed with art made by residents of the Marshwood Center, a skilled nursing facility in Lewiston. Their work debuted last month, and several of the artists came to Portland for the opening on June 7. Their excitement at seeing their work hanging in a gallery was evident as they studied the walls of framed paintings, and their family members were there to share in the excitement as well.
The show, entitled "Late Works," is the result of a unique partnership between the center and Oak Street Lofts. Since April, the Marshwood Center has been holding weekly painting classes run by Jeannine, the center's housekeeper and a lifelong painter. Angela Mastrella, recreation director at the Marshwood Center, said the classes have had a positive impact on residents and provided a creative outlet for those who thought their painting days were behind them. You can read more about the program in the Sun Journal.
Michelle, a resident at Oak Street Lofts, happened to see the artwork on display in the center when she was there visiting her grandmother. She approached the center about a gallery showing and served as curator. Michelle joined the residents at the opening in June, lifting a glass of sparkling cider to toast to their accomplishments.
Some of the work made by the Marshwood residents will be on display tonight as well, so if you missed it last month, you still have a chance to see it.
Michelle, herself a potter, has more than one connection to tonight's show. She also volunteered her time with the children to help them produce their artwork.
Including an art gallery in Oak Street Lofts was a first for Avesta. Since the building opened in January 2012, about 30 artists have shown their work there. The gallery space is booked through November, and some months in 2014 are also reserved.
We've been happy to see the residents so excited to use the gallery, and we're pleased to see such interesting collaborations evolve. These kinds of connections are what communities are built on — and as the children's artwork demonstrates, community is pretty powerful, no matter how you interpret it.
Stop by 72 Oak Street from 5-8 p.m. tonight to see the show.
---