Sitting on the couch in her new living room at the Adams School Condominiums, Karen McWatters talks about the blue and green rug underfoot — her first purchase for her new home. She built the room around its ocean-like hues, adding green pillows and sea-glass colored vases and candle holders. The whale décor scattered around the condo is a coincidence, she says — her new husband, Kevin, is a fan of the Hartford Whalers ice hockey team, as evidenced by the two ball caps that have prominent (if begrudging, on her part) placement on the console table.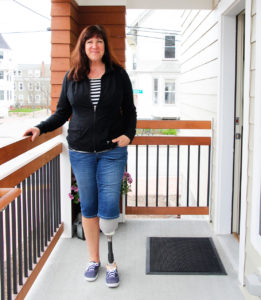 She explains that her recovery has hit a bump, and she needs another surgery to walk comfortably on her prosthetic leg. She faces weeks of post-surgery recovery in a wheelchair. She's all the more thankful now for her new home, which is fully handicap-accessible.
No matter their provenance, the nautical touches seem right at home in the Munjoy Hill condo, where bay windows afford a glimpse of the ocean. Karen closed on the condo last August, and she's looking forward to walking down to the ocean this summer. Even though it's a short walk, completing it would be a milestone for her since she lost her left leg in the 2013 Boston Marathon bombing.
"I wanted to just have my life now," she says. "It's like, I know I have this place, and I'm all set. I don't have to worry, and it's a huge thing not to have to worry. I can just do what I've got to do to get better."
Searching for a new home
Before the bombing, Karen (whose last name was Rand at the time) and Kevin were living in Massachusetts but looking for a summer home in Old Orchard Beach where they could stay while visiting family. But after the bombing, they realized they needed a year-round home that was handicap accessible.
But it was hard to find that kind of place in Old Orchard Beach, and the search took them further and further away from the center of town. "I'd feel like a prisoner stuck in my house, I couldn't go anywhere," she said. Karen and Kevin ultimately decided they needed to look elsewhere.
Their search led them to Portland, where "it was a challenge to find an affordable place, and also handicap-accessible." When the Adams School Condominiums came on the market, her realtor showed her the listing and urged her to look at it before it sold. Kevin convinced her to drive by just to see it on a Friday afternoon: "He said, 'Let's go,' we pulled into the lot and didn't even get out of the car. I called my realtor and said, 'Put in an offer,'" Karen recalls.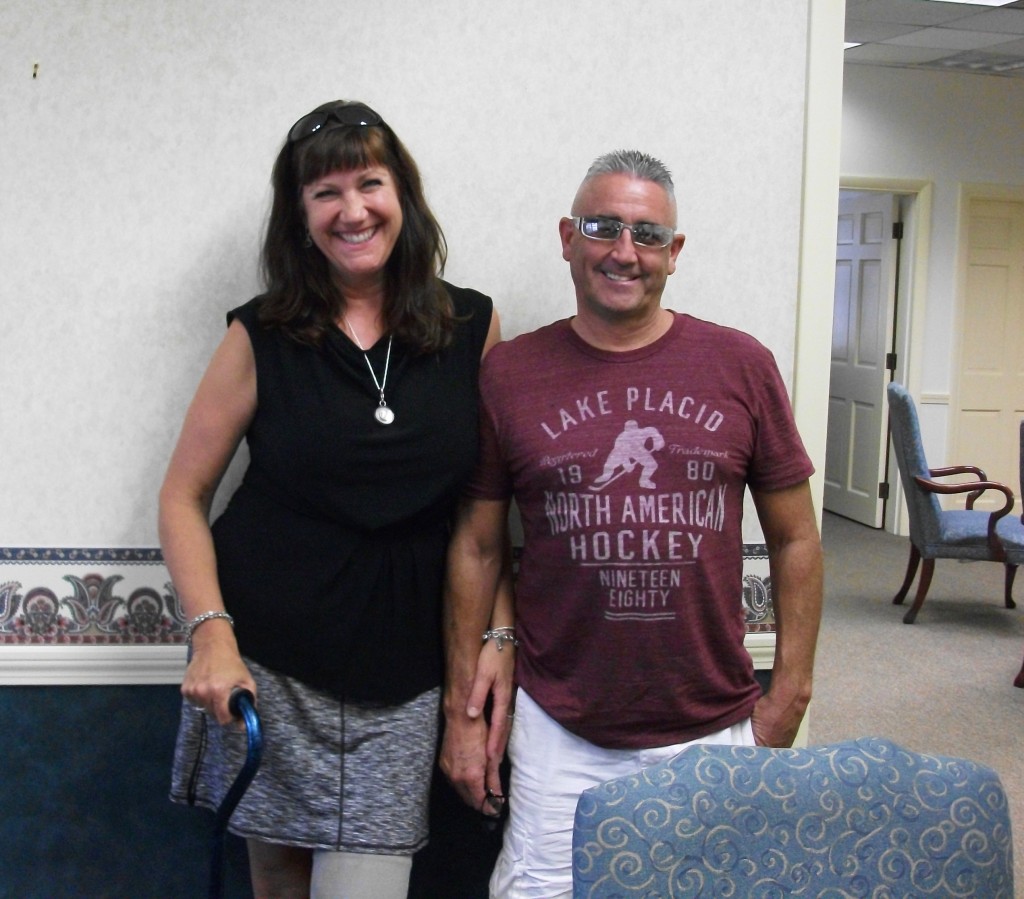 "From the day I walked through the front door I haven't regretted it," she says. "I'm so grateful and so happy to be able to come here and just recuperate — it's exactly what I needed."
From her condo, Karen can easily get herself to local shops and restaurants, like Hilltop Coffee, Rosemont Market and The Front Room. And she's grateful for the new support system she's found in her neighbors. "They all watch out for me, they know my story. It's like its own little community."
The 16 townhouse-style Adams School Condos sit at the corner of Moody, Wilson and Vesper streets in Portland's desirable Munjoy Hill neighborhood, where rising property values have become increasingly unaffordable to many. Priced below market rate for similar properties and available only to buyers making no more than 120% of the area median income, the Adams School Condos provide homeownership opportunities on the Hill that are affordable to people like Karen.
Moving forward
A Westbrook native, Karen previously spent a couple years living on Munjoy Hill, not far from her new place, while working for Standish Telephone. She went on to become an executive assistance for a chef in Massachusetts, a job she loved. She loved living in Cambridge and "became a city girl," she says, selling her car and walking everywhere.
On Patriots' Day 2013, she was at the Boston Marathon cheering on her then-boyfriend Kevin when the bombing happened. It cost her more than her leg. Her best friend, Krystle, did not survive.
"To have everything change in a minute was really a shock," she says.
She doesn't like to talk about the bombing or losing her friend. Rather, she likes to focus on moving forward and turning the experience into something positive, like helping others who face similar challenges.
A chance conversation in a furniture store last fall led Karen and her husband to learn about Estefania, a 13-year-old girl from El Salvador who lost one leg and was in danger of losing the other after she was hit by a drag-racer. Karen and Kevin arranged for her to receive free surgeries at Shriners Children's Hospital in Boston, as well as a donated prosthetic leg from Next Step Bionics, which provided Karen with her prosthetic. The couple also raised $15,000 to pay for airfare and living expenses to allow Estefania and her mother to come to Boston for her treatment.
Since Estefania arrived in February, Karen has visited her many times and was there when she took her first steps on her new prosthetic. Also there was ESPN, which profiled Karen and her work with Estefania one year after the bombing.
Although they don't share a common language, the bond between Karen and Estefania is obvious. Karen flips through photos she's taken of the teenager and grins. "I just think she's adorable."
Speaking Spanish, Estefania told ESPN, "It makes me happy because we have gone through the same thing. And I love that she is always smiling. I am so grateful to her. I love her, and she is my angel."
Karen plans to continue working with Shriners Hospital to find other children like Estefania in need of medical care, and she's also volunteered her time with the Red Cross to promote blood drives and fundraisers. The work has helped Karen stay busy and positive during times when she's struggled in her recovery.
And, despite it all, Karen is remarkably positive. She's glad to be back in Maine and close to her mother, friends, siblings and one of her two adult sons. She's happy to be a newlywed, having married Kevin in March at Cambridge City Hall. And she's looking forward to the day when she can once again walk to the Old Port, or even get back on her bicycle.
"It's strange how your life changes," she says. "In spite of the bad thing that happened to me, I'm happy. I'm married, I'm in a new place I love. I can't complain about anything, that's for sure."
---