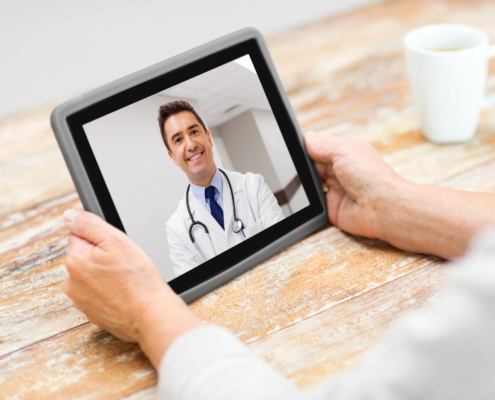 Avesta is pleased to announce a groundbreaking partnership with Senscio Systems, a Maine-based developer of artificial intelligence solutions for health conditions. We will introduce to residents at select properties Ibis (pronounced eye-biss), a comprehensive solution for at-home health self-management for persons living with complex chronic conditions.
Ibis combines healthcare technology and artificial intelligence, coupled with coaching and integrated health management services, to enable Ibis program members to self-manage their health and build stronger partnerships with their healthcare providers to proactively intervene.
Following care plans prescribed by members' physicians, the Ibis program notifies the care team to consider interventions based on patient self-assessment data and generates unprecedented actionable insights for the care team about the health of the patient.
Avesta resident service coordinators have been working with Senscio for several years. They have done numerous presentations and demonstrations at many of our properties and have signed up many residents for their telehealth tablet. With residents forced to use telehealth service to access health during the COVID-19 pandemic, we felt it was a good time to try a more targeted approach. We chose four Maine properties to pilot this program: Butler Payson (Portland), Foxwell (Kittery), Kallock Terrace (Saco), and Unity Gardens (Windham). Residents at these properties will be eligible for a device and will receive the following:
A 10" tablet to report daily symptoms like breathing, coughing, pain, and mood.
Medical equipment to monitor vitals like temperature, blood pressure, and oxygen saturation.
A dedicated Ibis physician to create a patient-centered care plan and review health data routinely.
A dedicated Member Advocate to connect residents with community resources.
Coordinated care with residents' primary care physicians and specialists.
Expanding access to healthcare and promoting positive health outcomes for residents living in our affordable properties are high priorities for Avesta Housing. We look forward to supporting this program and learning how we can best support our residents to navigate healthy living and affordable housing.

By Nick Kjeldgaard, Resident Service Manager
Nick Kjeldgaard joined Avesta Housing in 2014 as a resident service coordinator after working for several years in the field of international aide. At Avesta, Nick has worked as a resident service coordinator, property manager and Avesta's 504 Coordinator, and he currently serves as the Resident Service Manager. Nick's primary reasonability's include proving leadership to the resident service coordinators, building partnerships with other community nonprofits, and gathering and analyzing data on residents to provide meaningful and measurable programmatic outputs.
Nick is a Certified Occupancy Specialist (COS), a Fair Housing Specialist, and holds a certificate in Conflict Transformation. Nick received his Bachelor of Arts degree in Geography from Bucknell University in 2004, and his Master of Arts degree in Sustainable Development from the School for International Training in 2008.
https://www.avestahousing.org/wp-content/uploads/2020/08/computer-with-senior-slider.jpg
1247
2048
Nick Kjeldgaard
/wp-content/uploads/2017/01/logo.png
Nick Kjeldgaard
2020-08-18 11:40:38
2021-03-11 10:08:02
Telehealth Solution for Older Adults Living in Affordable Housing