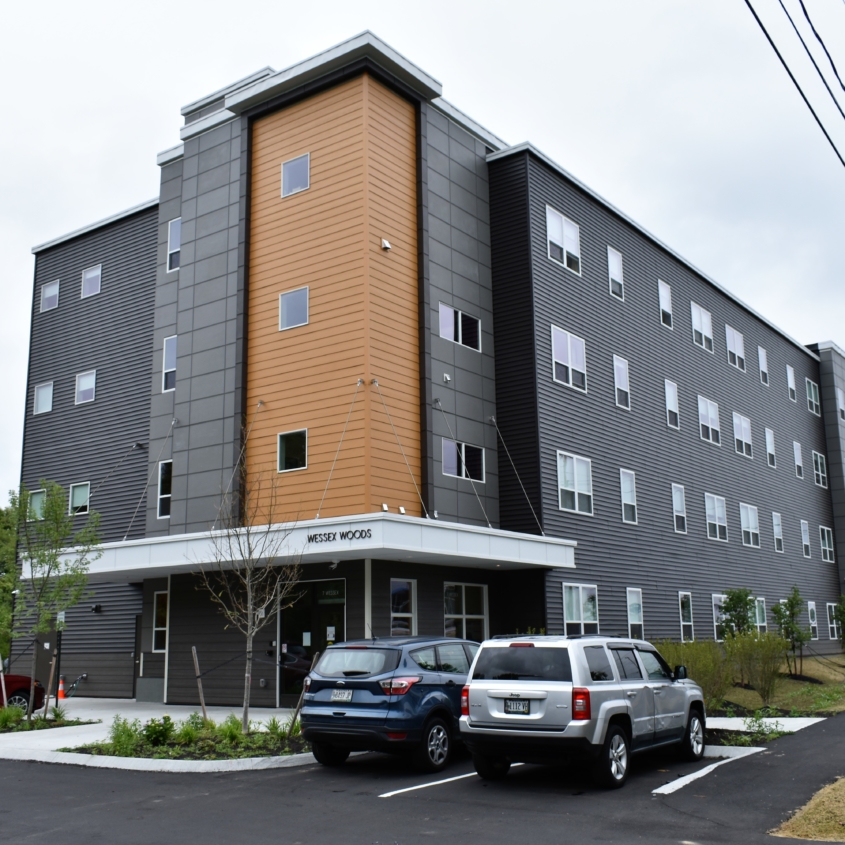 Avesta Housing's newest community is the first of its kind in Maine and a reflection of our commitment to provide housing that is both affordable and sustainable.
For Wessex Woods in Portland, Avesta partnered with CWS Architects of Portland and Zachau Construction of Freeport to utilize the latest in eco-friendly construction that not only addresses current needs but anticipates future needs.
Housing residents ages 55 and older, the building is the first in the state to include CLT (Cross Laminated Timber) in its design. An alternative to masonry, CLT panels consist of layered boards stacked crosswise at 90-degree angles and pressure-glued into place. The panels are lightweight but very strong and are quick and easy to install, which make them especially cost-effective for multistory dwellings.
In addition, the building has an energy recovery ventilation system that imports and circulates outside air to regulate the indoor temperature, and each floor includes two electric heat pump units, resulting in a two-thirds reduction in electrical usage. To reduce the chance of flooding, all rainwater is collected in an underground tank under the parking lot and filtered into a nearby waterway rather than flowing into the city's stormwater drainage system.
That's not all—future plans call for the addition of solar panels on the roof (made possible by leftover contingency funds), and conduits are in place under the parking lot so that electric charging stations for vehicles can be installed at a later date if desired.
"The theme of all this is that we are thinking forward to ensure our properties reflect the latest building science and response to climate change challenges," said Greg Payne, development officer for Avesta Housing.
Construction on Wessex Woods began in November 2019 and was completed this past March. There are 40 one-bedroom units, of which 34 are affordable housing and six are market-rate units. Portland Housing Authority provided vouchers for eight units.
Amenities include a laundry room, a multipurpose room with wi-fi and a TV monitor, a bike storage room, several raised garden beds for residential use, and a telemedicine room in which residents can conduct virtual appointments with healthcare providers. Located near downtown Portland near Brighton Avenue, Wessex Woods is within walking distance to shopping areas, dining, walking trails, and public transportation.
Of course, a building is not a home without people to live in it. And with the need for affordable housing in Maine at historic levels, demand for Wessex Woods was incredibly high. Normally, it takes six months to fully lease out a new apartment complex; Wessex Woods was leased out in less than three months.
"We had about 900 people who gave us their information before January saying they were interested," said Emily Pelletier, senior leasing specialist with Avesta Housing. "And of those who were placed in units, only a handful came from another home. Most were living with their children or were homeless and living on the streets."
With Wessex Woods, Avesta Housing is proud to provide another community that people can call home—now, and for many years to come. But our work is far from done. As long as there is a need for safe, quality, affordable housing, we will strive to provide the means to fulfill that need.
"I have never lived in a community living setting before, but as we continually see new faces, we become familiar with each other. Everyone is so friendly and seem very happy to be here," said Deb, a resident at Wessex Woods. "I couldn't have found a more beautiful place to live, and I am extremely grateful for this opportunity."
https://www.avestahousing.org/wp-content/uploads/2021/06/Wessex-Woods-Exterior-June-2021-scaled.jpg
1707
2560
Rod Harmon
/wp-content/uploads/2017/01/logo.png
Rod Harmon
2021-06-30 15:12:16
2021-07-13 16:05:40
Wessex Woods sets new standard in affordable sustainable housing