Scholarship recipients Hanan Omar and Benedita Zalanbantu
PORTLAND — Avesta Housing, a nonprofit affordable housing provider in Maine and New Hampshire, has awarded educational scholarships of $1,000 each to two first-generation college students who intend to embark on careers to help others in their communities.
The scholarships are open to Avesta Housing residents who are enrolling in a secondary education program, such as college, graduate school, trade school, and certificate programs. This marks the fifth year Avesta Housing has awarded the scholarships.
This year's scholarship recipients are: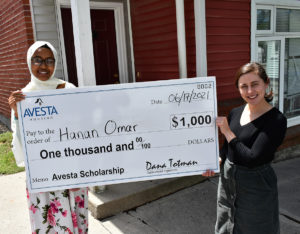 Hanan Omar: Hanan, 17, lives at Unity at Bayside in Portland. She is originally from Djibouti, east Africa, and immigrated to Maine in 2014 with her mother, Mariam Abdourahman, and three siblings.
Hanan recently graduated from Deering High School, where she advocated for Black African studies, racial sensitivity training for faculty, and increased diversity of district staff in Portland Public Schools. She plans on attending Wesleyan University and majoring in biology. Her career aspiration is to become a gastroenterologist. "I used to have stomach problems, and a gastroenterologist really helped me, so I want to help people the same way she helped me," she said.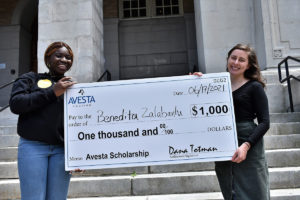 Benedita Zalanbantu: Benedita, 18, lives at St. Dominic's Apartments in Portland's historic West End. A native of Angola, she immigrated to Maine in 2013. Her parents are Carlos Wisi and Veronica Mayanta, and she has four siblings.
Benedita is already a nationally recognized author and social advocate: In 2019, she won a Gold Medal in Poetry in the Scholastic Art & Writing Awards for "Drop of Melanin & Blood," a poem about bias, identity, police brutality — and, in her words, "hope and fear." She plans on attending Boston College, where she will double-major in international studies and political science. Her career aspiration is to become an immigration lawyer. "I want to be someone immigrants can look up to; someone who can relate to them," she said.
"Avesta values education," said Nicholas Kjeldgaard, resident services manager for Avesta Housing. "We see how the pursuit of training and education transforms our residents' lives. What set Benedita and Hanan apart from the other applicants this year was how much they had accomplished at such a young age and how much good they are doing for their communities."
Here are their winning essays:
Hanan Omar
Q: What are your educational goals? How will this scholarship help you achieve your future career plans?
A: I am a first generation college student from an immigrant family. My whole life, I have wanted nothing more than to attend college and work in the field of healthcare. Seeking a higher education than what my parents received has always been a must for me. Throughout my entire school career, I have always been an academically successful student. I have always gone above and beyond in my STEM classes to prepare for the college experience. With this scholarship, I will be able to attend a college that has a renowned STEM program to help me become a successful Black Woman in STEM. It will also help me not to be at a disadvantage compared to other students. If I get this scholarship, I will be able to pay not only my tuition at school, but also books and room and board. I want to be able to experience the full college journey without being set back because of my family's financial situation.
Q: Part of Avesta Housing's mission is to strengthen communities. How has living in an Avesta community affected your life? If you could do anything to change your community in a positive way, what would you do?
A: Living in an Avesta Housing community exposed me to different people with ethnic backgrounds that have different stories. I realized that many of these families living in Avesta Housing had kids that attended Portland Public schools. Most of the kids wanted to learn more about their backgrounds and their history. However their history is not taught in the schools. This made me want to be more involved in my district curriculum. I became a student representative for Africana Studies within my district. Africana Studies is a group which is made up of teachers and student leaders. Our objective is to cultivate an academic space for Black African history, committed to highlighting Black Excellence. In order to accomplish this goal of decolonizing the curriculum, we are working on training teachers to be more racially sensitive. We also are fighting for more visibility by hiring Black faculty, which would bring Black voices, perspectives, and experiences into the educational system of Portland, Maine. We are still working on this system but when it is implemented, the kids living in Avesta Housing would be able to learn more about their history but also Black Excellence in Academic spaces.
If I could change something about the community would be our level of interaction. I would create more social gathering with the residents to create more of a sense of a community. It would be more of an outdoor gathering for safety measures because of the pandemic. Games and activities will be provided to create more of a relaxed atmosphere.
Q: Pick an experience from your life and explain how it has influenced who you are
A: Since I was young, my mother would always rely on me when it came to responsibilities around the house or our family's paperwork. My mother always told me that I am independent and that she can rely on me more than my three older siblings. The work I've had to do for my family, and responsibility I have has made me more dependent and more confident in my own abilities. This experience influenced me to be the person that I am today because I am very goal oriented and can depend on myself to accomplish what I want.
Benedita Zalanbantu
Q: What are your educational goals? How will this scholarship help you achieve your future career plans?
A: I am a first-generation college student and an asylum seeker which makes me ineligible for financial aid. My parents were robbed off from their education due to lack of money and I don't want that for myself. I will be majoring in Political science with a minor in English in hopes of pursuing my law degree at Boston University School of Law and becoming an immigration lawyer. I plan to work with families who find themselves in the situation I am currently in. The process of seeking asylum in a country that is not your own is not only stressful but also challenging. It is something that takes a long time and to some extent becomes a barrier to a lot of things, in my case, would be receiving financial aid. The lack of representation is also something that prompted me to want to do something with law. I want young people like myself to have someone to relate to.
Q: Part of Avesta Housing's mission is to strengthen communities. How has living in an Avesta community affected your life? If you could do anything to change your community in a positive way, what would you do?
A: It has allowed my family and me to live in a comfortable manner without having to think too much about money. My family is already low-income and we try to minimize the thought or need to spend a lot of money and Avesta has done that. I live in a very quiet neighborhood and safe, so I don't worry too much about it. If I could change it in a positive way, I'll make sure people know their neighbors. Without Covid, it would've been to have a bbq which would allow bringing the Avesta community even more together.
Q: Pick an experience from your life and explain how it has influenced who you are.
A: In the back of the class, I could see them but they could not see me. That is how I wanted it to be. On my first day of school in America, I was told to sit anywhere I wanted, and I chose to sit in the back. My teacher asked a question, and I had the sudden urge to answer it, but with what, English? The answer to the question was just … B.' I've replayed that day in my head over and over again. In a course of four months, I went from being an outspoken person to someone who felt as if my words did not matter because I had become a target of bullying and struggled to speak English.
I discovered that my words did matter through poetry, and as my love for poetry grew over the course of four years, my voice became heard. Throughout my year in high school; I won the Founder Prize from the Telling Room, a National Gold Medal through the Scholastic Writing & Arts Award. Sophomore year, I was nominated and a finalist for the Maine Literary Award. I am a two-time published author, and I plan to continue writing until college. Poetry has helped me grow both emotionally and academically. It has allowed me to paint the unsaid, with words. It has turned me into a storyteller. Poetry gave me the courage to speak in a quiet room and gave me the courage to stand up when people were sitting. For the last four years, I've accomplished more than I ever thought possible. Poetry has allowed me to become whom I wished I was seven years ago. And because of poetry, I do not sit at the back of the room anymore.