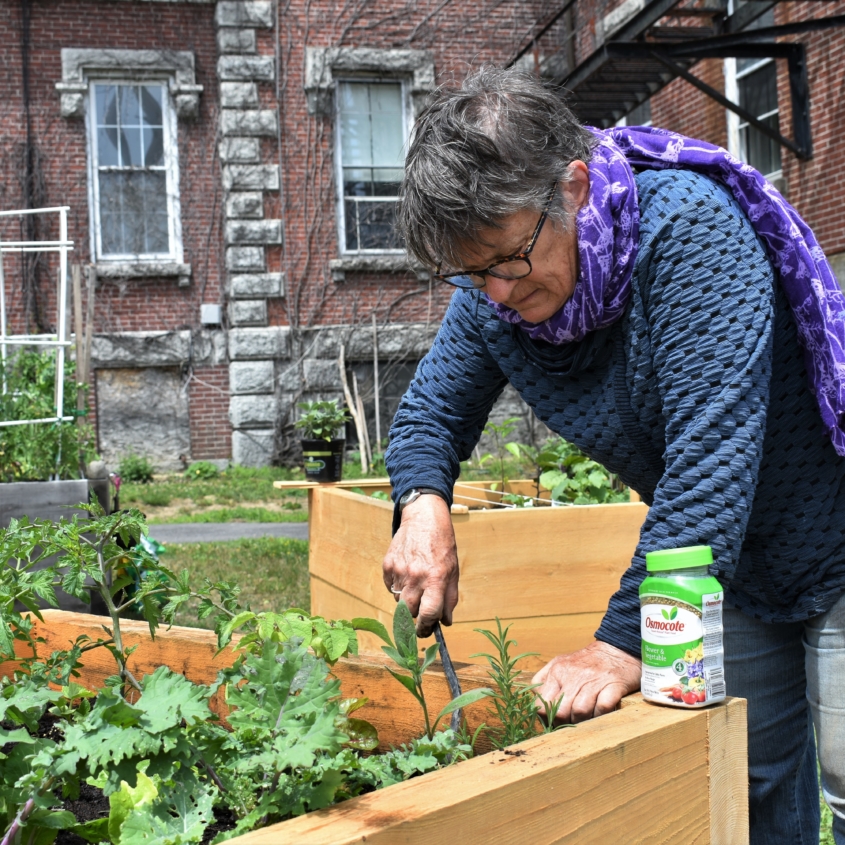 Firmly gripping a handheld square hoe in her right hand, Caroline E. Savage describes what she has planted in her raised garden bed at Motherhouse, a 55-plus Avesta Housing community in Portland.
A couple of tomato plants here. Some kale over there. Rosemary, basil, and dill for flavoring. She's an artist—a photographer by trade, she explains—and she's arranged the plants with an artist's eye.
"It's a beautiful place to work," says Savage (pictured above) as she stabs into and turns over the soil, occasionally revealing the palm of her hand. It is evident that this hand has seen many hours at this bed, with dirt creeping under the nails and highlighting the palm print like fine-grained wood after staining.
"It takes effort." She pauses, then adds: "But it also promotes community."
With summer in full gear, community gardens at Avesta properties are once again being put to use by residents. Their surface function is obvious: vegetables for eating; ornamental flowers and plants for aesthetic pleasure. But they also serve underlying purposes that are perhaps less obvious.
They provide a place where people can congregate, get to know each other, and work together side by side. They provide a sense of peace and tranquility, especially for those with behavioral health issues. For residents who previously lived in single-family homes, they help in the transition to living in a housing complex, and for former farmers, they offer a chance to continue farming while passing on their knowledge to others.
This slideshow requires JavaScript.
More than 50 percent of Avesta properties have a community garden, said Nicholas Kjeldgaard, resident service manager. Some of them were part of the development plan, while others were installed later at residents' requests. Some are raised beds, some are in-ground beds, and some are simply grow bags. Some are plain; others are festooned with windmills, sculptures, birdhouses, and other decorations. Most are maintained by the residents themselves, although some are managed by neighborhood associations, organizations, or municipalities.
Here are just a few examples:
At Pearl Place in Portland, the Bayside Neighborhood Association partnered with the City of Portland to install 12 raised beds, and a member of the BNA is on site for a couple of hours every Wednesday to help residents maintain the gardens.
At Sandy Creek in Bridgton, the community's children helped shovel loam into grow bags and garnered seedling donations from local farms; they now help maintain the grow bags.
At Foxwell in Kittery, Avesta has taken a hands-off approach—residents buy all the materials and do everything by themselves.
At Motherhouse, members of the property's residential gardening club manage the garden, with each person responsible for planting and maintaining their own bed.
Despite all the differences, they all have one thing in common: They bring people together.
"One thing I've noticed is that there are folks gardening, but there are also non-gardeners bringing over their lawn chairs and sitting in the garden space to enjoy it," said Heather McIntosh, a resident service coordinator for Avesta. "That's been really nice to see."
After all, they're not called "community" gardens for nothing.
https://www.avestahousing.org/wp-content/uploads/2021/06/Caroline-E.-Savage-Motherhouse-June-2021-scaled.jpg
1707
2560
Rod Harmon
/wp-content/uploads/2017/01/logo.png
Rod Harmon
2021-07-01 09:55:26
2021-07-13 16:30:43
Community gardens bring residents together