PORTLAND, Maine — NBT Bank has donated $25,000 to Avesta Housing's Silver Hearth Fund to help provide affordable housing and services for older adults in Maine and New Hampshire.
Avesta provides safe, affordable quality homes to more than 4,500 people each year, half of whom are ages 55 and older. Still, the need for affordable housing for seniors far exceeds Avesta's capacity. The Silver Hearth Fund was created in 2019 to address this need by providing resources to build new housing, improve existing housing, and expand services for older adults.
"NBT is a longtime supporter of Avesta Housing, and this gift will go a long way toward providing security and wellbeing to older adults in our communities," said Avesta President & CEO Dana Totman.
NBT's gift brings Avesta Housing closer to hitting its $2 million fundraising goal for the Silver Hearth Fund, thus helping to ensure that seniors will receive the affordable housing assistance they deserve.
"Affordable housing remains a challenge for many Maine residents, especially our senior population," said NBT Bank Maine Regional President Kimberly Twitchell. "On behalf of our President & CEO John H. Watt Jr. and all of us at NBT Bank, we extend our appreciation to the Avesta Housing team, which continues to combat this issue with its impactful programs and services, such as the Silver Hearth Fund. As a community bank, we're invested in being a good neighbor and are proud to be able to support this important work."
NBT Bank offers personal banking, business banking and wealth management services from locations in seven states, including New York, Pennsylvania, Vermont, Massachusetts, New Hampshire, Maine and Connecticut. NBT has served Maine since 2014, and the company's Regional Office is located at 5 Widgery Wharf on Portland's waterfront.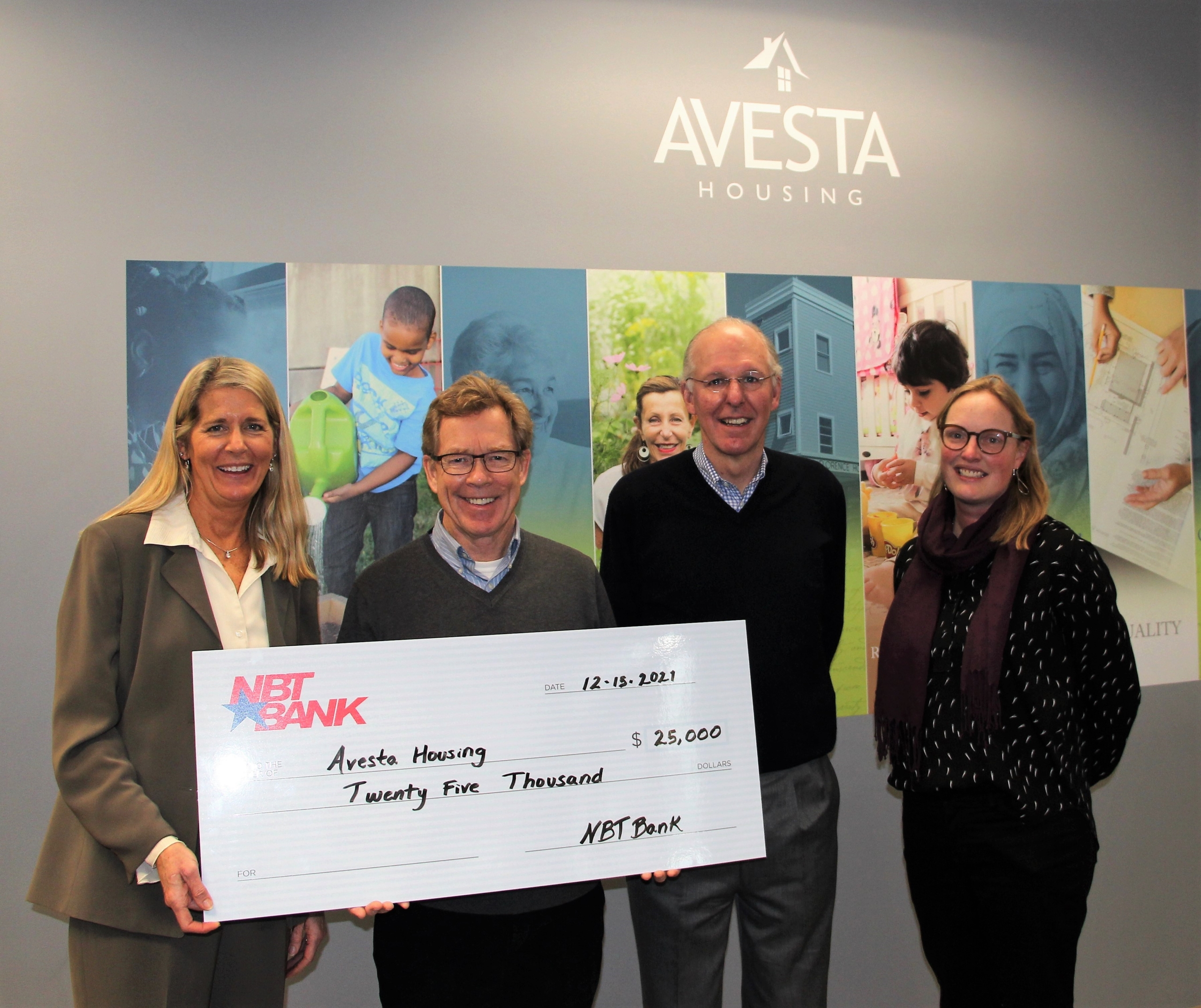 Left to right: NBT Bank Maine Regional President Kimberly Twitchell, Avesta Housing President & CEO Dana Totman, NBT Bank President & CEO John Watt Jr., and Avesta Housing Director of Development & Communications Sara Olson